Frederick Aaron Tepper; 7/17/14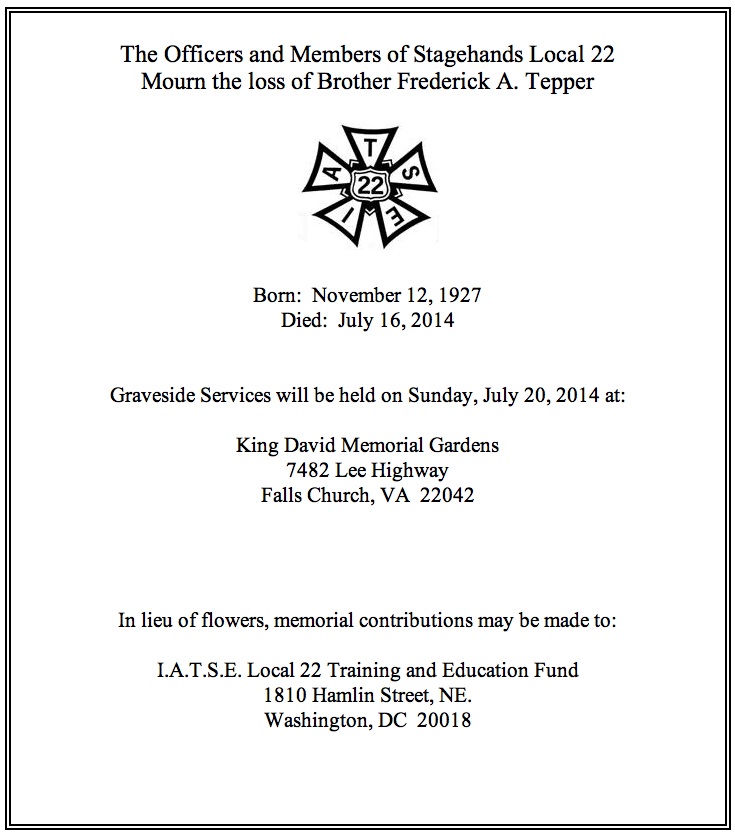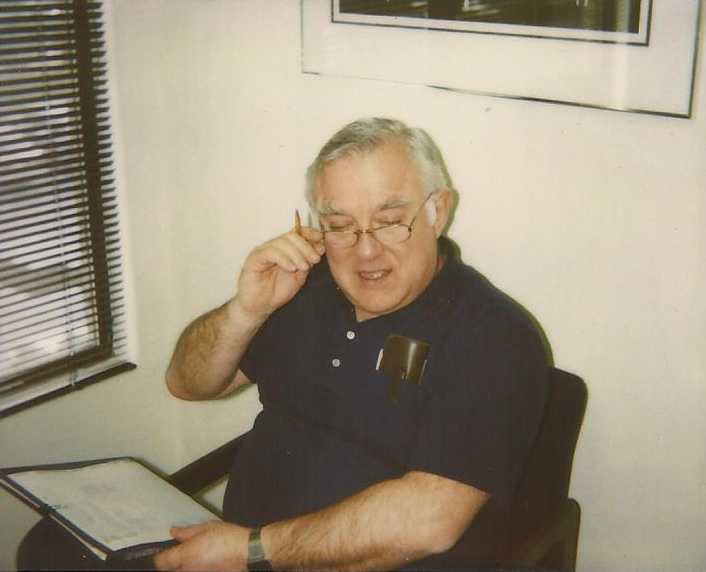 Frederick Aaron Tepper, 86, of Mount Pleasant, South Carolina, died peacefully on Thursday, July 17, 2014.
Mr. Tepper was born November 12, 1927 in Detroit, MI, the son of the late Frank Tepper and Estelle Siegel Tepper. He was a graduate of the University of Maryland and a U.S. Navy Veteran where he served aboard the U.S.S. Douglas H. Fox during and after World War II.
Mr. Tepper was a member of a film crew for NBC News on the Huntley-Brinkley Report and NBC documentaries. While filming in Jerusalem he and his team came under fire at what was the beginning of the Six Day War. The team having taken cover, his producer, Ted Yates, was killed just a few feet away. He was later the Head Lighting Electrician at the National Theater in Washington, D.C. and at the Filene Center at Wolf Trap Farm Park for the Performing Arts in Virginia.
Mr. Tepper was a long-time member of Local 22 of the International Alliance of Theatrical Stage Employees and had served as the Local's Business Agent. He had a strong interest in training and education through the Local's education committee and as a member of the United States Institute for Theatre Technology.
He is survived by his loving sister Thelma Becker, devoted nephew and nieces Farrel (Gina) Becker, Karen Becker, Terry (Dennis) Fisher; great nephews and nieces Liz (Ryan) Trueblood, Kevin Becker, Sarah Witkin, Alex (Marisa) Witkin, Leah Fisher and Samantha Fisher.
His Graveside Service will be held Sunday, July 20, 2014 in King David Memorial Gardens, 7482 Lee Highway at 1 PM. Arrangements by J. Henry Stuhr Inc., Mount Pleasant Chapel and Hines-Rinaldi Funeral Home of Silver Spring, Maryland.
Memorials may be made to:
IATSE Local 22 Training and Education Fund
1810 Hamlin St. NE
Washington, DC 20018